Offshore Software Development: The Ultimate Beginner's Guide!
What is Offshore Software Development? It is the process where the development task is delegated to a third party. However, The number of tasks delegated can be entirely personalised.
Each business is unique in its productivity, functionality, performance, goals, and approach. With such individuality, comes business-explicit challenges. Which demand custom-made software, applications, and websites to survive in this evolving tech world.
In addition, if you are a beginner. Who lacks specialists and resources. Offshore software development is the best option for you. As it does only cut down your hustle. But also helps you get in touch with some quality tech specialists. Who knows their job best.
What is OFFSHORE, NEARSHORE, ONSHORE?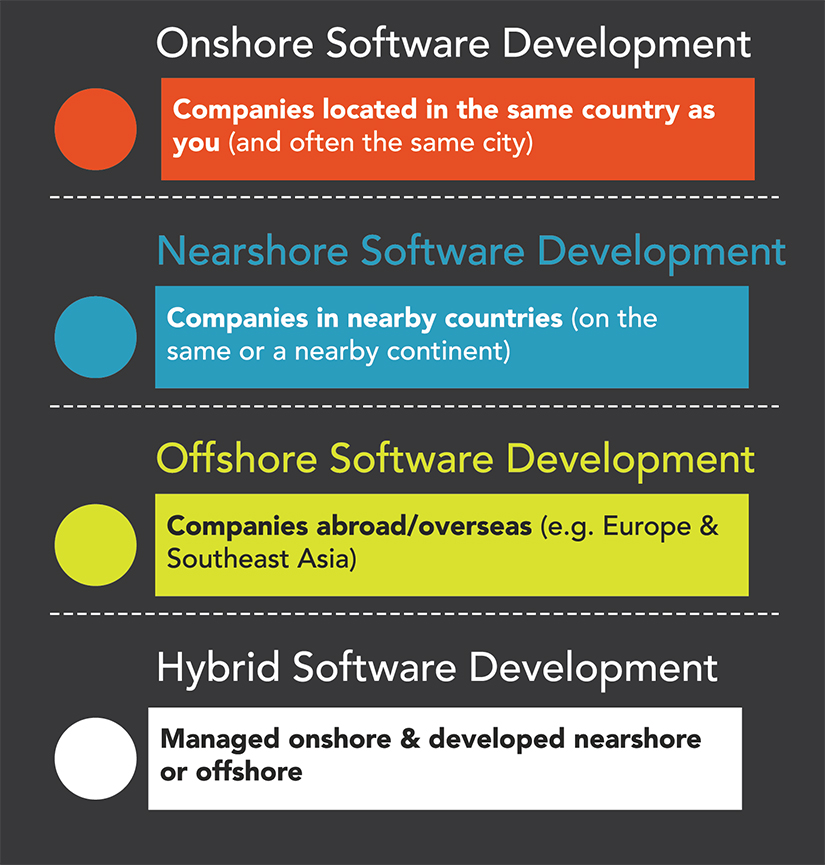 Offshore software development means. The development service provider is located in a foreign country. It can be at the other end of the world. Another continent, different time zone etc. But to cope with such differences is not a big deal, in this digital-driven world of today.
Nearshore software development means. The provider resides somewhere in the neighbouring countries. Therefore the time zone difference is negligible.
Onshore software development means. The outsourcing company is in the same country. This is considered more convenient to some product owners. Thus they proceed with this option. Rather than the above two.
WHY COMPANIES OPT FOR OFFSHORE SOFTWARE DEVELOPMENT?
One of the most highlighting benefits of choosing offshore software development is the reduced development cost. The cost is reduced up to 30 – 40%. Which is a big YES!. Specially, If you are on a budget.
Thus the cut cost can be utilised in other ways. For instance, improving the product quality, functionality, rate of development. By hiring more specialists.
However, reducing the cost for development nowhere means, You are underpaying the developer. Or you are compromising on the quality. In EASTERN EUROPE, countries like UKRAINE offers great development services on low budgets.
The standard of living and salary rates in such countries are low. Which gives the product owner an edge in the budget aspect. Hence, where you were inclined to pay $35-40 in the US. Here you can get the same work by offering lower salaries. Thus a WIN-WIN situation.
If you have less exposure and knowledge about your project. In addition, if you are a New-bee in the tech world. Then offshoring software development is a great option for you. Because offshoring will put your project in safe hands.
You can hire a team of experts. Who are skilled in their job. If you can not find the project-specific experts, in your country. Offshoring is the best option.
It allows you to gather a task-specific team. Which you can later adjust to a smaller team for maintenance only. Once the task is done.
Your time-to-market is highly reduced by outsourcing your project. Speed is very essential in business goals. You have to make sure all the deadlines are met and work is on time.
Moreover, you can also increase the rate of development by multi-sourcing. You basically split the project and hand the development responsibility to multiple third parties.
You can coordinate and communicate. To bring all the teams on board for better product functionality and productivity. Hence, within less time a good quality product is delivered in the market. Which helps your business in recognition and growth.
One of the most important reasons to outsource is you get the best fit team for your project. You don't have to compromise on any aspect. You can add individual experts to your team, for as long as you want.
Once their task is done. You can always cut your team short according to the need. Secondly, you don't need to worry about training your offshore development team. They are experts in their job.
Hence you are cut from any extra hustle. Once you find the perfect team for your project. You are good to go!
CONS AND SHORTCOMINGS OF OFFSHORE SOFTWARE DEVELOPMENT?
Offshore software development also comes with some shortcomings. Which you should be aware of before offshoring. So here are some of the common problems faced in delegating your project to a third party.
Whether different time zone, different culture, different mentality or different work style and market. It can all affect the quality of your project delivery if not checked and balanced.
Before offshoring make sure you are well aware of the culture, norms, and basic knowledge of the offshoring area. This will help you estimate the shortcomings you can experience in the future. Hence you will be already prepared with the strategy to follow.
One of the challenges faced in Offshore software development is a security risk. Delegating your project to a third party means you are inclined to share all the personal information about the project. This can be quite risky.
Especially if your work is not in safe hands. There is a risk of data theft. However, to save yourself from such embarrassment and loss. You need to have a good hold and knowledge about the company you are working with.
Take out their previous records. The projects they have worked on. Their efficiency, productivity and loyalty. Secondly, check their reputation in the market. After doing your homework, then decide whether they are trustworthy and capable of executing your project or not?!
Make sure you are well aware of the legal system of the environment/region/country you are about to work in. Different countries, regions, experience different laws and legislation. Moreover, laws in the area can have a hand in how well or bad a company is doing.
Therefore it is necessary for you to make sure. That the terms between your region and the region you are working with, won't interfere with the speed of your work.
Get a peek into the political situation, the government support and all other required aspects. Hence, to experience a seamless development journey.
HOW TO LOOK FOR THE BEST OFFSHORE SOFTWARE DEVELOPMENT TEAM?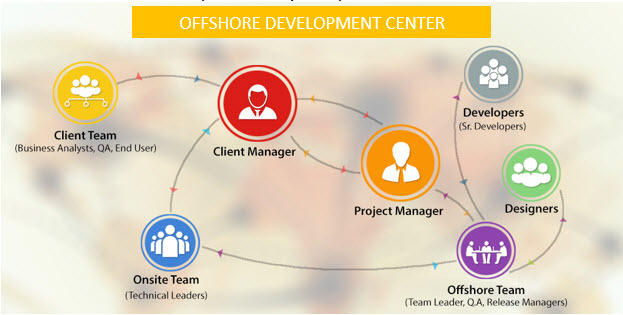 Have a clear vision of your goals regarding the project. This way you will be able to deliver it clearly to the third party. Know the kind of product you visualise. The needs of the project. The budget. The team requirements. List down everything.
Look for all the best offshoring companies. Study about the region's policies, their salary rates, their culture, language, experience, skills, reputation. And then pick which fits your project best.
Offshoring means working with a team from across the globe. Which means consistent engagement and communication. Have a check on the team's productivity rate, hold them accountable for any problem faced. Stay vigilant.
OFFSHORE SOFTWARE DEVELOPMENT RISK AND ISSUES?
LACK OF TRANSPARENCY
Some companies prefer not to disclose their personal information with a third party until extremely necessary. This is because your data can be at high risk of being misused.
COMMUNICATION GAP
Due to Geographical differences miscommunication can occur. Moreover due to lack of communication the development company might lack on development. Which can alter the product quality. Which will eventually be a loss to the project.
UNCLEAR BUSINESS POLICIES
If the offshore development company is unclear about your policies. It can lead to chaos and misunderstanding. It is therefore better to make everything clear to the provider beforehand. Your vision, goals, policy and work style. Thus to avoid any future mishaps.
MISMANAGEMENT
If you opt for outsourcing, you need to go the extra miles for the management of the team. If you have chosen multiple outsourcing teams, for specific tasks. Then the workload is even more.
However, you can also hire a manager to share your burden. Lack of management can lead to some serious drawbacks in the development journey. Therefore you need to make sure everything is under control. All the team workers are on board and working regularly.
Read More about how to manage Remote employees
THE PERFECT OFFSHORE SOFTWARE DEVELOPMENT COMPANY?
Once you begin looking for an offshore development company. You will come across a pool of options. Choosing the best one can be quite a deal.
But if you have done your research and you know what each company offers. You can easily calculate if whether those services fit within your project demands or not. List down your needs, goals, perspective and vision. Thus, this will help you choose the best offshore development company out there for your project.
Here are some of the qualities you need to look for while choosing a company.
Their vision and goals
Skills and experience
Communication and language
Reputation in the market
Culture and geographical differences
Cost- effectiveness
ALSO READ: Why do companies choose outsourcing software development? all questions answered!
TOP COUNTRIES FOR OFFSHORE SOFTWARE DEVELOPMENT
FINAL VERDICT
Hiring, managing, leading and developing software can be quite a deal. But with the right software development team, you are cut off from such hustle.
With the best fit team, you can deliver and market functional, up-to-date software in less time and money.
So why wait? Get going, and avail the best development service out there.